Parallax Scrolling Website Tutorials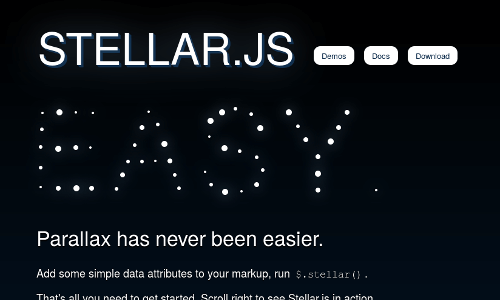 Stellar.js is a jQuery plugin, created by Mark Dalgleish. It aims to make creating parallax websites easier, as well as providing mobile support for parallax websites.
This is a tutorial by Mark Dalgleish about the Stellar.js. The tutorial included links for the demo, docs, and for some downloadable files. The tutorial uses CSS, JavaScript, and jQuery. This also included demonstration of parallax elements.
This article was written and posted by Aurelio de Rosa and this is an introduction to parallax scrolling using stellar.js by sitepoint. Stellar.js is a jQuery that allows you to easily add a parallax a scrolling effect on the website. It is very stable, compatible with the latest version of jQuery and a lot of developers employ it in their websites.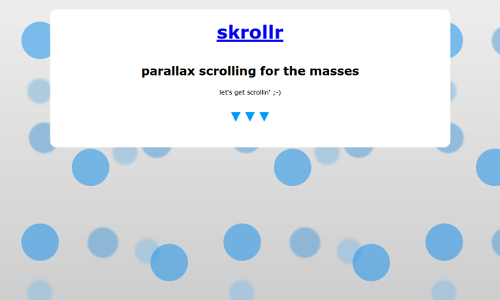 Skrollr.js is a javascript package designed for creating parallax websites. It does not use jQuery, and is instead a stand-alone library. It is downloadable via the Skrollr.js GitHub Page.
The Skrollr.js website is worth taking a look at just to see the interesting effects. The page is wonderfully constructed with plenty of 3D parallax effects (notice the circles in the background), rotations, transitions.
This tutorial in creating game-style Parallax scrolling was made by Elli Bishop. This uses Parallax, CSS, JavaScript, HTML, and skrollr.js. This shows how to explore content in an immersive and engaging way using parallax scrolling.
This Skrollr Parallax tutorial was made by Masud Ahmed HTML5 CSS3 on how to setup your html for a parallax website, how to animate background image at a different speed then page scrolling, and how to precisely control the timing and duration of your animations. This uses CSS and HTML for coding, in addition to skrollr.js.
This is a tutorial amde by Thibaut Gilbert in using parallax scrolling as a fixed background. This tutorial uses Parallax, CSS, HTML, jQuery, and skrollr. The tutorial uses codes for having a website without a fixed background.
This is a tutorial in making CSS animations be linked to scroll position using skrollr. The tutorial uses skrollr.js, CSS, JavaScript, and HTML. The tutorial shows the main idea behind Skrollr. This also included a quick demo to show how things work.
These tutorials only use CSS3 to create a 3D parallax scrolling effect. No javascript is used: no jQuery, no libraries, no scripting needed at all.
Script-tutorials.com goes in depth and explains what exactly a parallax effect is, and how exactly to script and make one using CSS. Within 3 steps, you can have your own parallax effects for your own webpage.
This is a tutorial about creating scrolling parallax effects with CSS, written by Stefan Judis using css. Parallax effects have become more popular, by doing so, images that are moving in different directions or different speed with different layers leads to a nice optical effect. And by adding CSS to this effects, it can rescue the scrolling performance of a website.