Technologies
Parallax Technologies
Strictly speaking, the parallax effect is created when two or more layers move at different speeds to create the illusion of depth. Visual content in the background will move more slowly than objects in the foreground. This depth effect in websites is created by moving elements more quickly or slowly than others, based on how far a visitor has scrolled down the page.
Parallax technologies will allow you to do this, moving your website contents to give a third dimension to your site.
With this control, you can also control other aspects of the elements too. You can control color, shape, size, and just about any other CSS property. These technologies allow you to control CSS using javascript, based upon how far your visitors have scrolled down the page. At the most simple level, you can use javascript directly, no libraries needed.
Javascript
Websites can be created using stand-alone javascript. You can simply create javascript that will change the background position of elements, based upon how far your visitors have scrolled down. This will create the parallax-based depth illusion. You can also use it to modify any other CSS property, such as size and color.
We published javascript parallax scrolling tutorial on how to create a very simple parallax website. The parallax effect is relatively simple, but can be tedius to implement for a large number of elements. If you are creating a very detailed site with many elements, you may wish to use a javascript library, such as jQuery.
jQuery is a free javascript library that makes creating webpage scripts easier. It is quite popular. It is used for creating numerous effects, ranging from sliders to animations, to parallax websites.
There are hundreds of plugins for jQuery. They are designed to make much of the javascript development process easier, providing functions and code to reduce the amount of work you need to do. Several parallax jQuery plugins are available, devoted specifically to creating parallax websites.
To add jQuery to your site, you can simply include a link to the jQuery javascript file in your webpage (see Using jQuery with a CDN on the jQuery download page.) Alternatively, you can download the script yourself via the jQuery download page.
Once you have jQuery added to your site, you can use a jQuery parallax tutorial. These tutorials do not use any libraries; they just create the javascript to make the parallax effects on their own (it isn't as hard as it sounds.) The tutorials are well explained and will lead you step-by-step through the development process.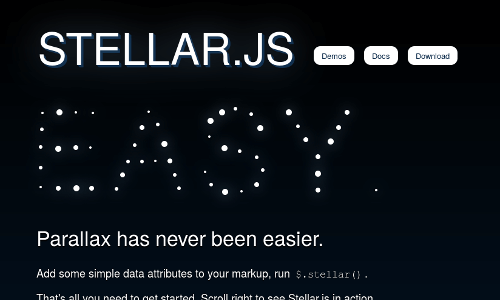 Stellar.js is a jQuery plugin, created by Mark Dalgleish. It aims to make creating parallax websites easier, as well as providing mobile support for parallax websites.
Stellar.js can speed up the development process required to build a parallax website, providing a simple interface for controlling the scrolling of individual elements. For a complete explanation of how to implement stellar.js on your parallax webpage, visit the official stellar.js documentation.
For further explanation, please visit our list of stellar.js parallax tutorials.