DC.js
Interactive & Dynamic Multi-Dimensional Charts & Graphs with DC.js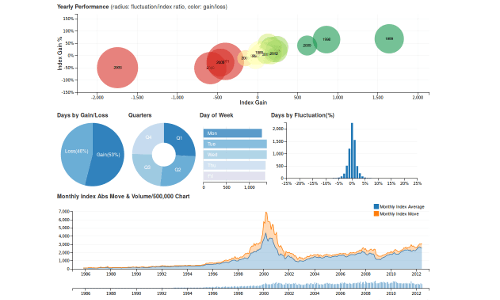 DC.js is a JavaScript library for creating Multi-Dimensional charts and graphs.
DC.js is built using d3.js, a JavaScript 3-dimensional graphing and rendering library, and crossfilter.js, a library used to examine and process large, multi-variate data sets. Using crossfilter, DC.js helps efficiently explore, analyze, and display large amounts of data. With d3.js, DC.js facilitates creating graphs SVG format, creating screen-size and resolution responsive graphs. DC.js allows graphs to be modified instantaneously with JavaScript, either based on page-run instructions or through user interaction.
By combining these libraries, DC.js creates a tool for displaying a large amount of information beautifully and efficiently.
DC.js Tutorials: Creating Dynamic and Interactive Line, Bar and Doughnut Charts
This tutorial shows how to create a single stacked-bar graph using DC.js. It shows how to color the data components of the graph both using javsacript and using CSS3 nth-child selectors.
This in-depth tutorial demonstrates how to use DC.js to create a web-based dashboard, similar to many intranet sites. Since DC.js is inherently a complex and highly-featured library, the tutorial is long and intricate. However, the tutorial does a great job of explaining how the page in the tutorial is built and what the code does. It shows how to add the code and data, as well as how to customize the appearance of the graphs.
This tutorial shows how to create and style a bar graph using DC.js. It divides the code into small segments, creating an easily understood explanation. The tutorial additionally demonstrates how to modify attributes of the graphs, including size, spacing, and whitespace.