Chartist.js
Interactive Charts & Graphs with Chartist.js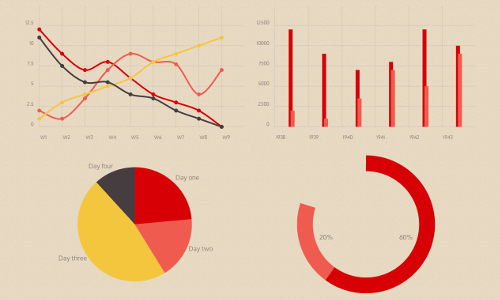 Chartist.js is a JavaScript-based graphing library for websites. The library creates graphs real-time on websites with scalable vector graphics (SVG), styles them with CSS including CSS animations and transitions, and gives direct control of the graphs with JavaScript.
Because graphs built by Chartist.js are created using vectors, they are fully responsive to your visitors' screen sizes and will automatically match your visitors' screen resolution.
Chartist.js is built with and supports code written for the SASS CSS preprocessor. Using CSS @media queries, Chartist.js supports creating different graphs for different screen sizes. For easier control than manually writing @media queries, the library also offers an easily-implemented mechanism to specify graphs for different types of devices.
With these settings, the library supports both traditional and mobile-first designs. For mobile devices for example, Chartist.js can show fewer labels creating a more easily read graph.
Accessing elements within graphs created by Chartist.js is easily done through the HTML DOM, just like any other element on your website. Because the graphs are created using SVG, every component of the graph is accessable and editable.
Chartist.js Tutorials: Creating Line, Bar, Scatter, and Pie Charts
This pages shows live demos for how to create charts with Chartist.js, providing javascript code and brief explanations for the end result. The examples include line charts, scatter charts, area charts, bar charts, and pie charts.
This is the official tutorial for Chartist.js. It explains how to load the library, how to create the HTML structure for graphs and charts in the page, and the javascript for creating charts. The tutorial is easy to follow and quite understandable, with clear explanations for potential developers about how the library works.